Gold Standard of DESIGN
Future-inspired design based on the impact 2.0 language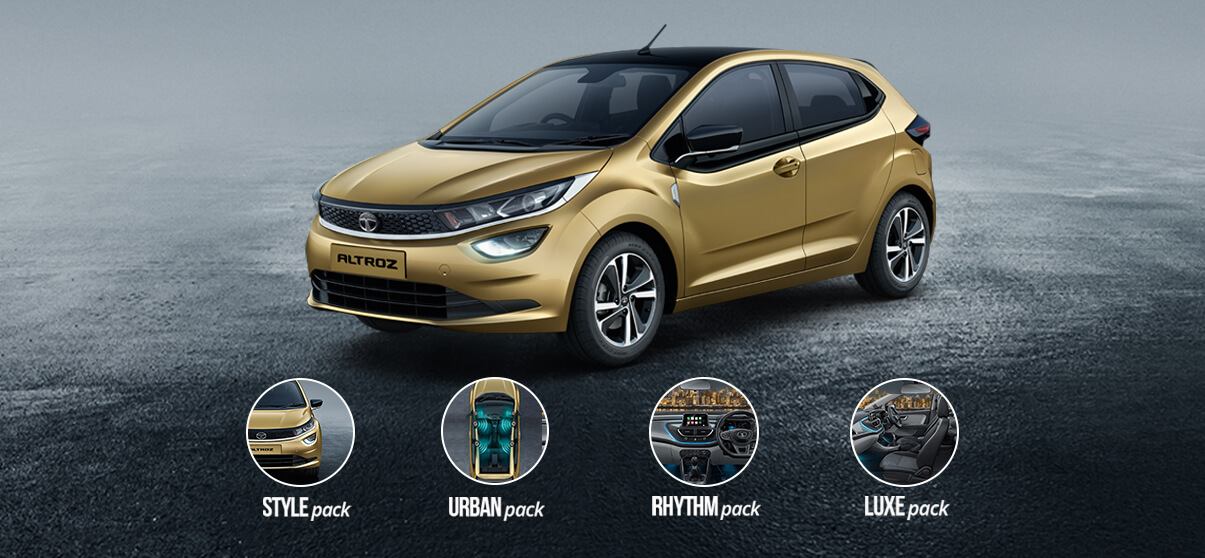 Cockpit inspired interiors
Step inside and be amazed by the modern, intelligent and tastefully crafted interiors. When you embark on a journey in this car, you'll wish your drive lasts long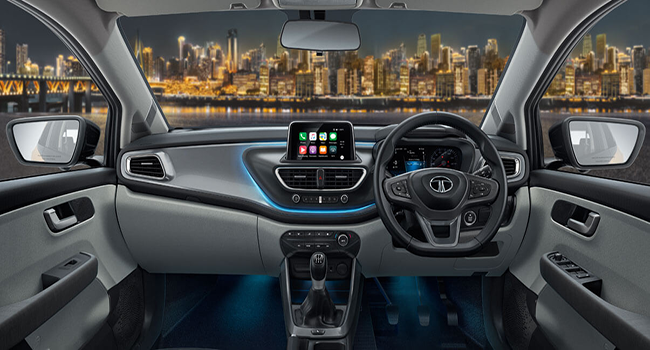 90 degree Opening Doors
Inspired by the sprawling wings of a majestic soaring bird, the 90 degree opening doors of the Altroz ensure an abundance of space for anyone getting in or out.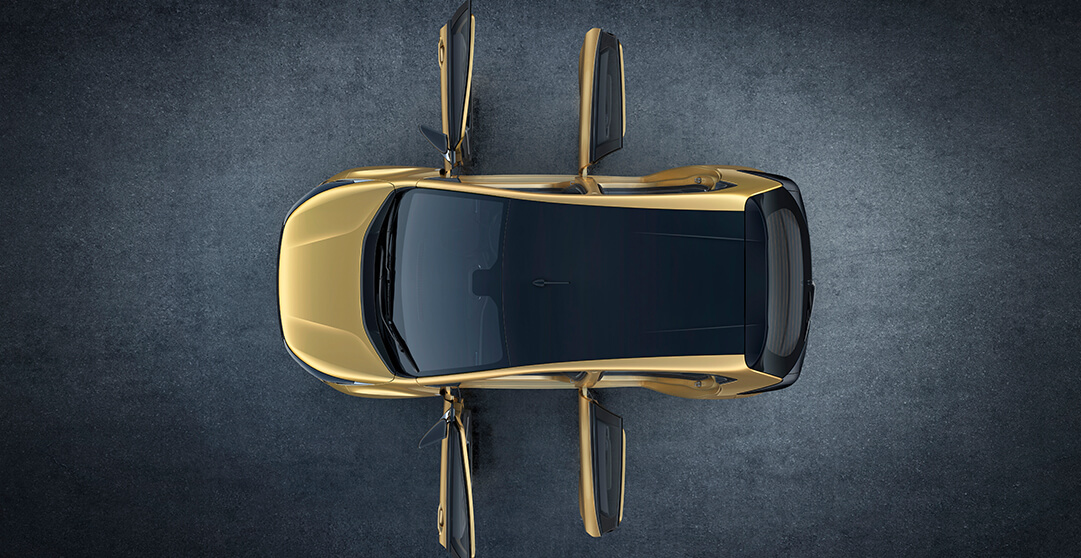 Dual chamber projector head lamps
New age projector headlamps, help light up the darkest of roads with a brightness that never fades.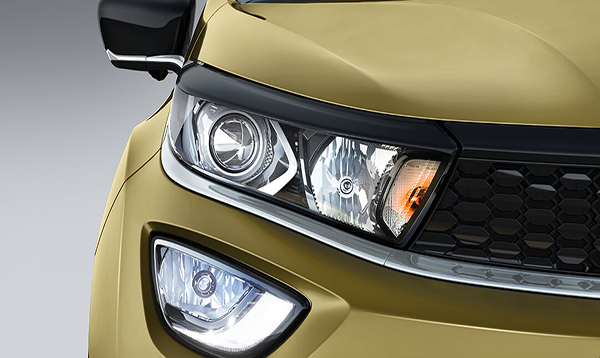 R16 Dual Tone LASER Cut Alloy wheels
On-lookers will be left dazzled when your car has LASER cut 16" dual-tone alloy wheels that add to the athletic side profile and also enhance handling.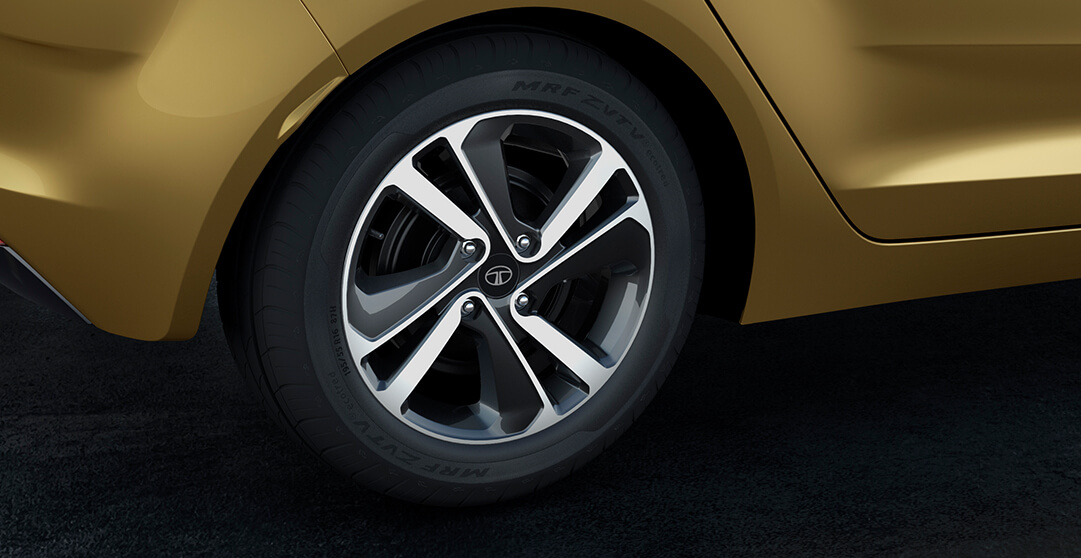 Piano Black ORVM with Chrome Accent
Stylish outer rear view mirrors that not only offer a very premium and elegant look but makes you want to look back often. And it will be easy, thanks to the electrically adjustable ORVM.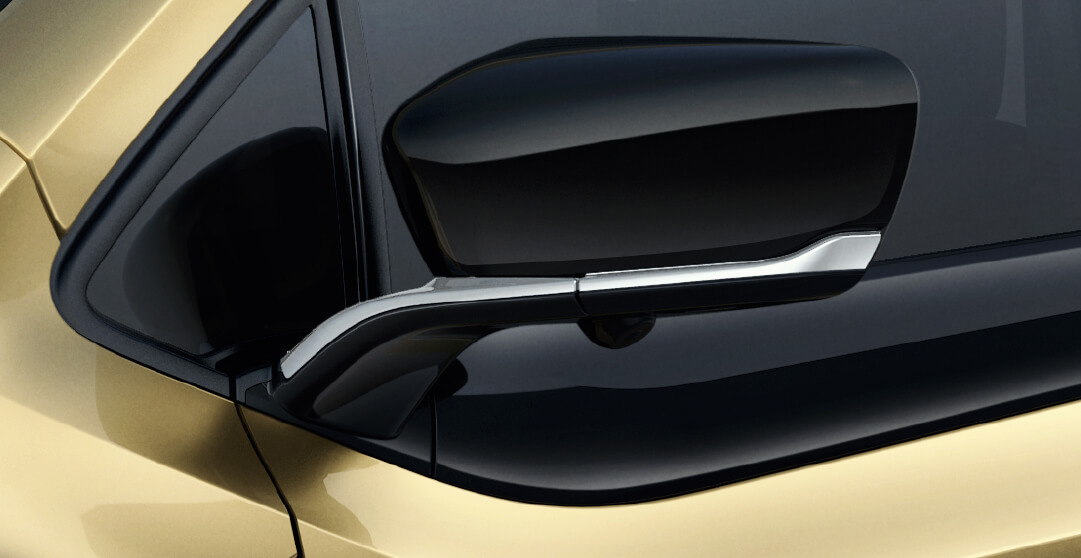 Day Light Opening (DLO) with Shooting Comet Beltline
Uniquely shaped DLO's help provide increased daylight entry and surround visibility.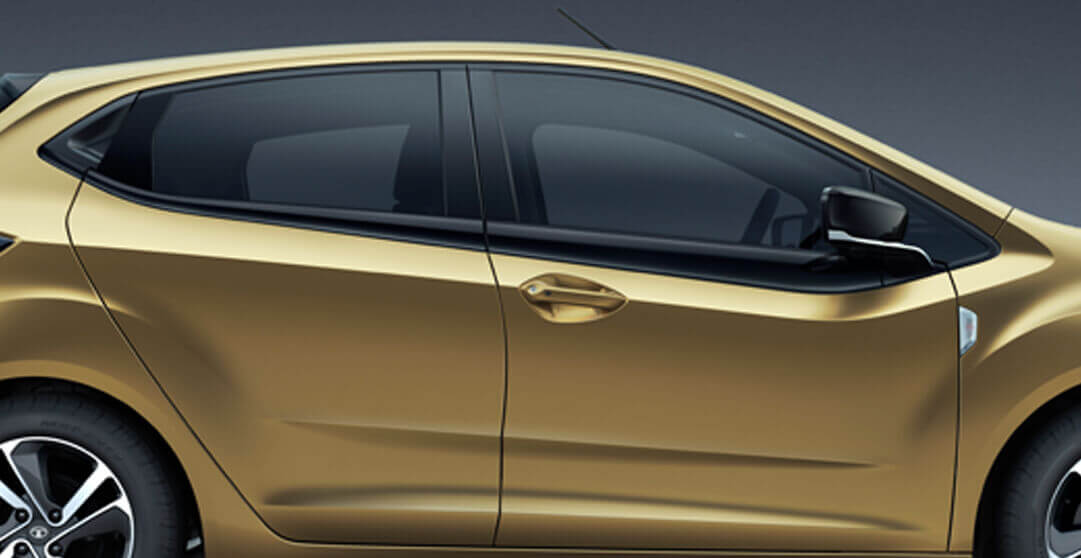 C-Pillar Mounted Rear Door Handles
Well integrated rear door handles built into the c-pillars gives refined & sporty look.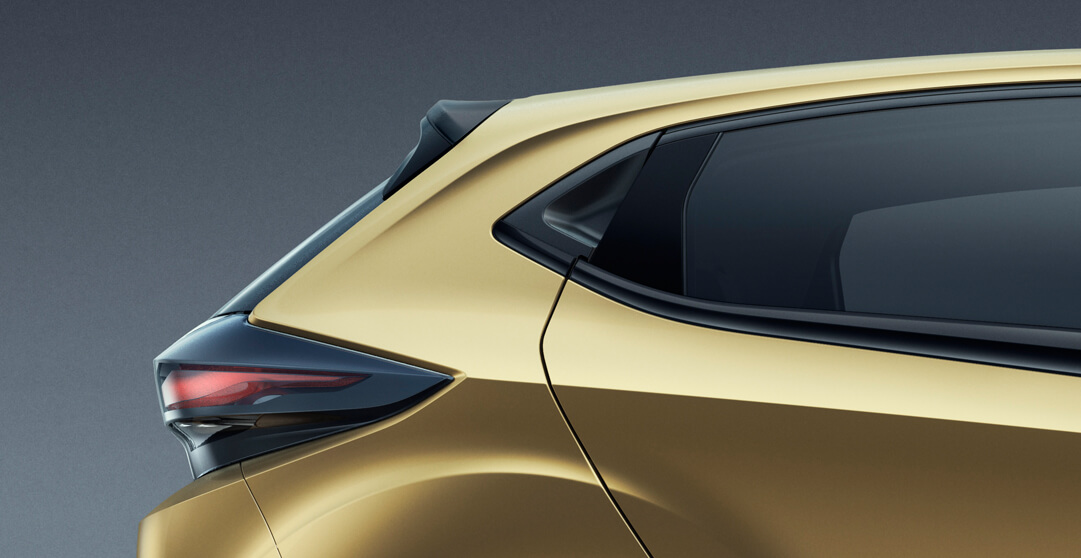 Seamlessly integrated spoiler
A seamlessly integrated spoiler guarantees an unmatched presence in just about any situation.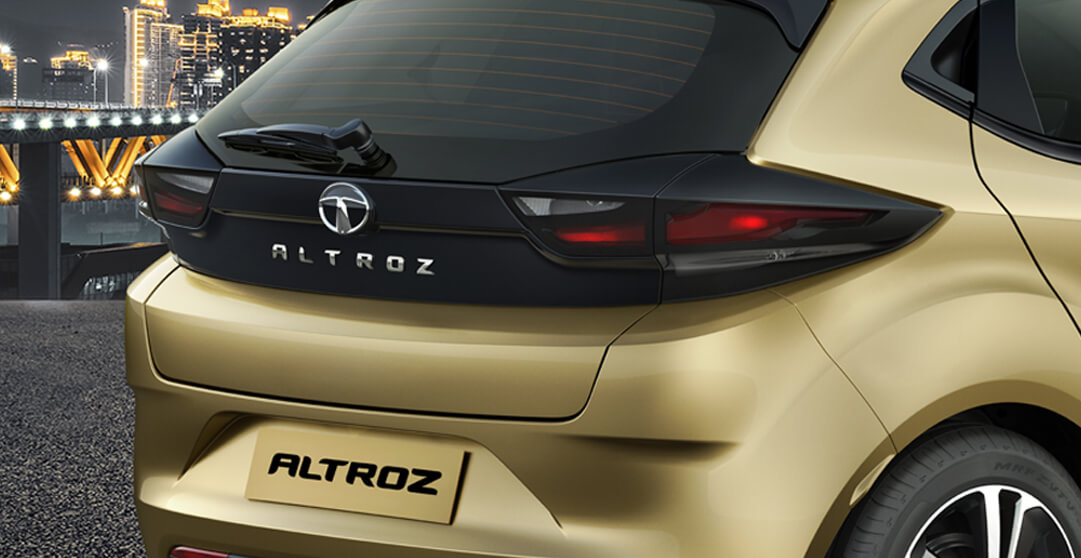 LED DRL
Day time running lights (DRL) gives a signature appearence to the altroz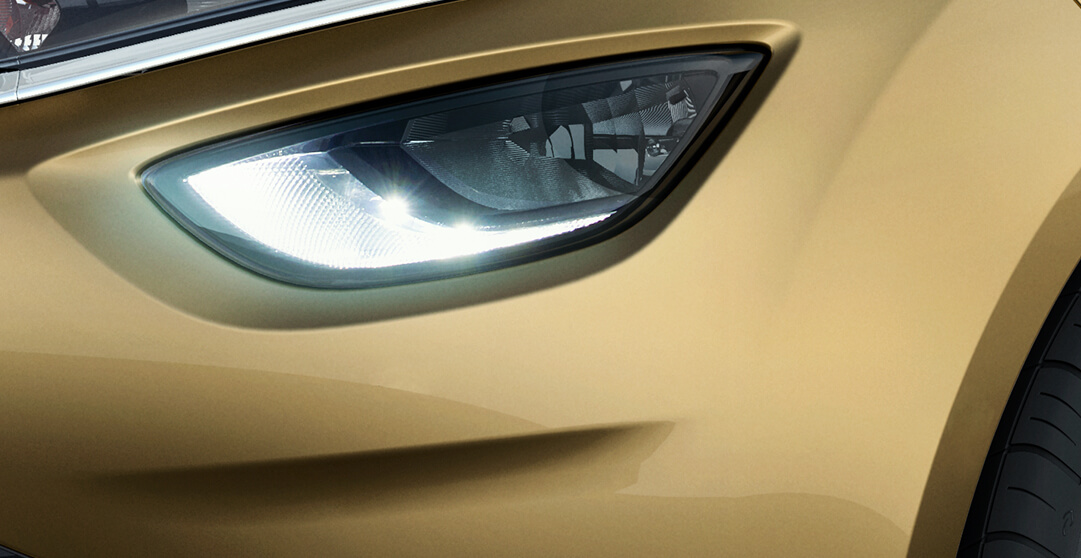 Signature Split Tail Lamps
Revolutionary new split tail-lamps help you arrive in style like no other.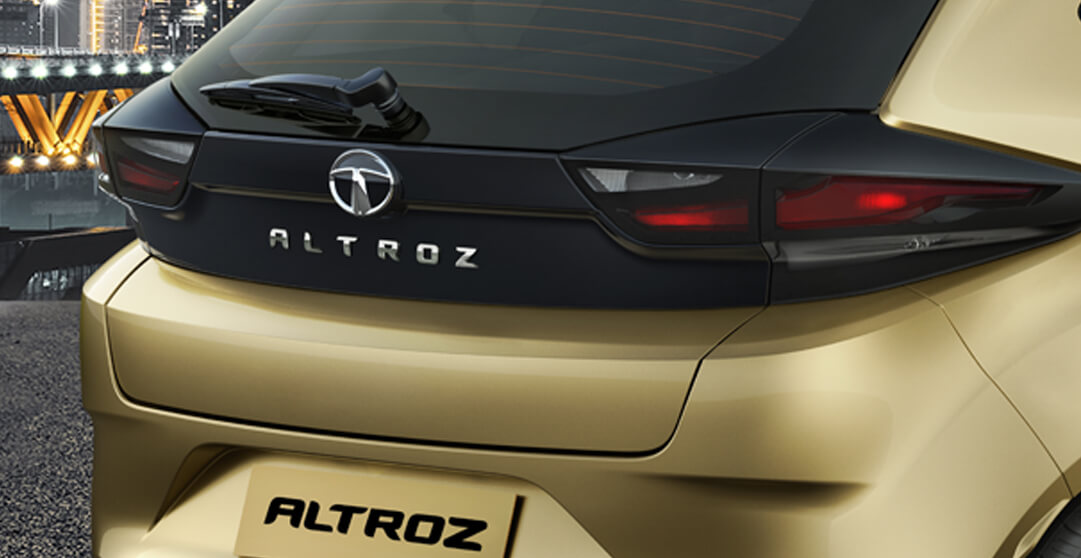 Black Contrast Roof
Spend twice the time admiring the car while looking at its black contrast roof.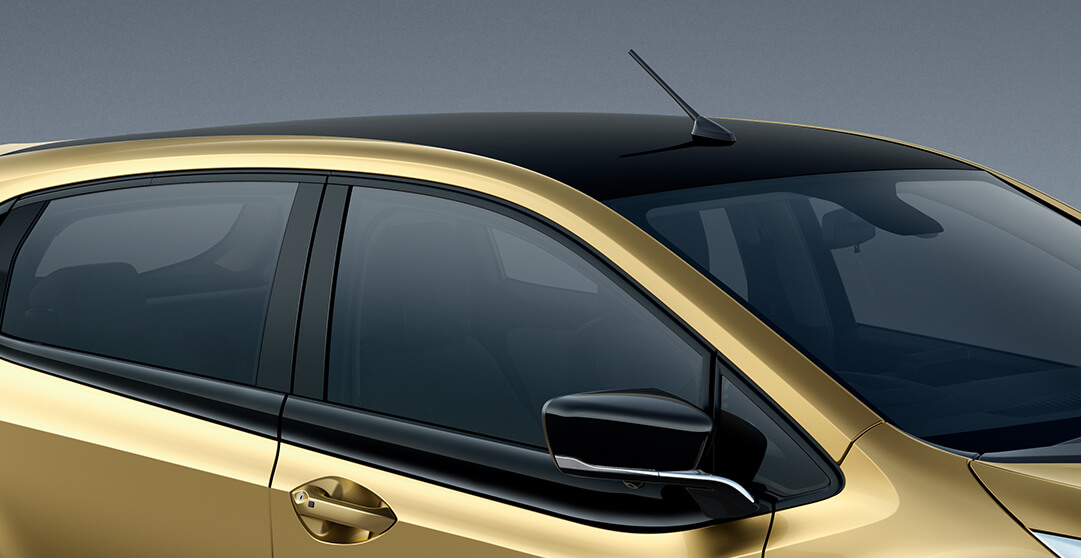 Floating-island dashboard layout
Floating Island Layout with a serene blue Ambient Light-surround on the dash really brightens up the mood while driving at night.
Classic Satin Chrome Finish Dashboard
A metallic finish dashboard surrounded by a serene blue ambient light, helps amplify the premiumness and set the mood for a long, peaceful drive.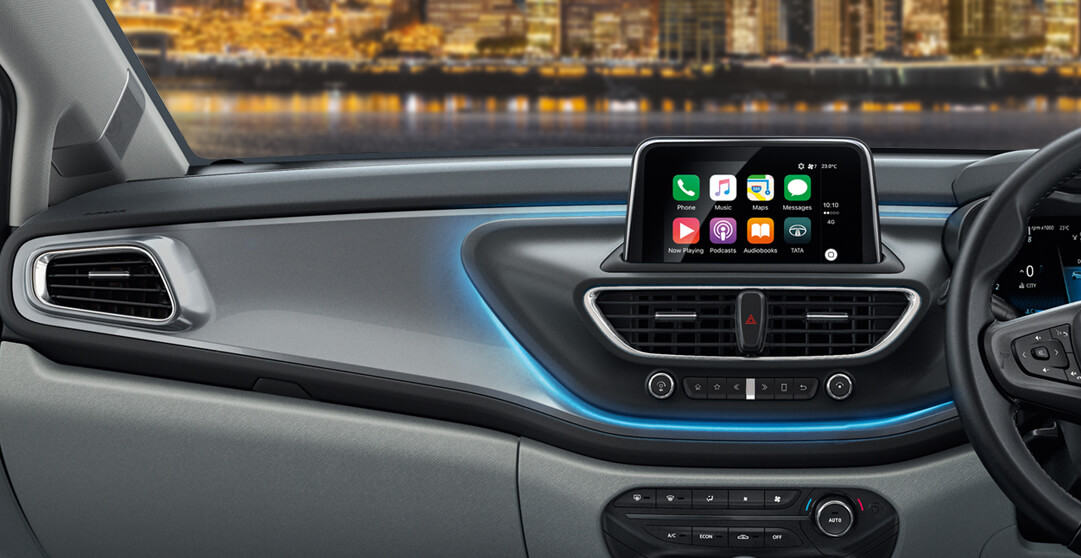 Leather Wrapped Gear Lever
A leather wrapped gear lever helps induce a sense of luxury and opulence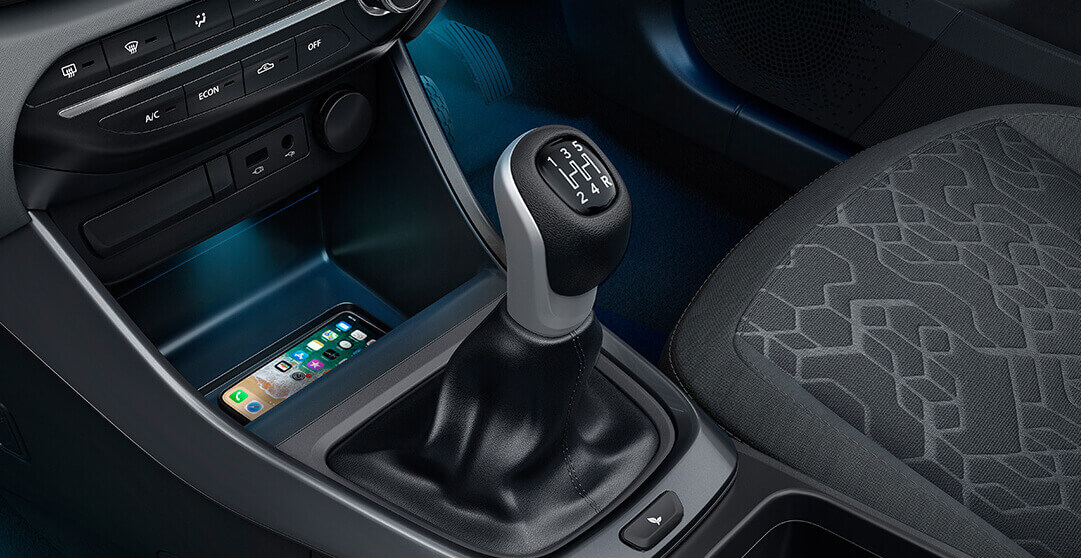 Metal finish Inside Door Handles
A metallic finish on inner door handles ensure additional visual and aesthetic appeal.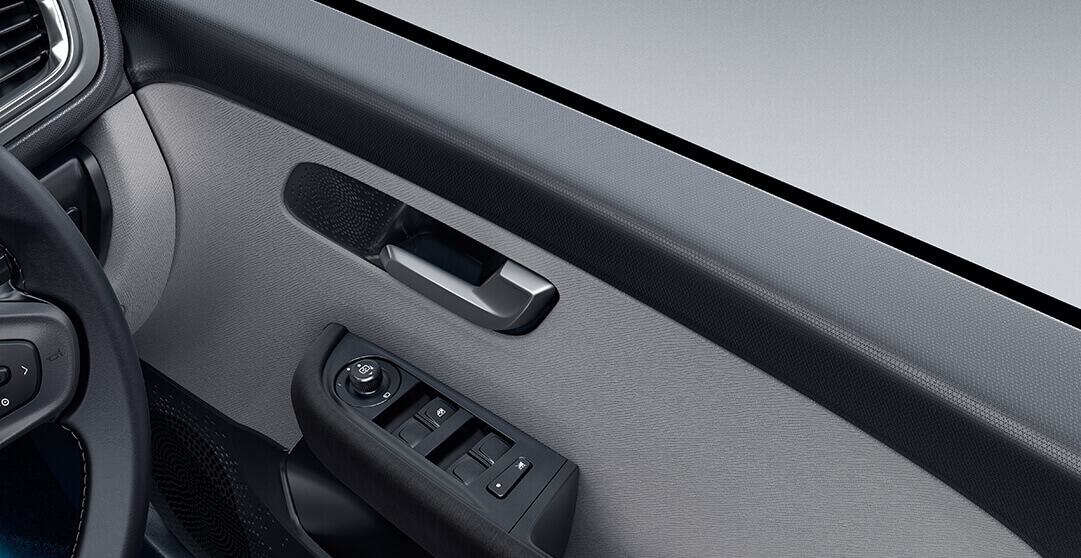 GOLD STANDARD OF SAFETY
Altroz has been designed to offer world-class protection to its occupants, Equipped with ALFA Architecture and a comprehensive safety system ALTROZ has achieved 5-star Global NCAP rating.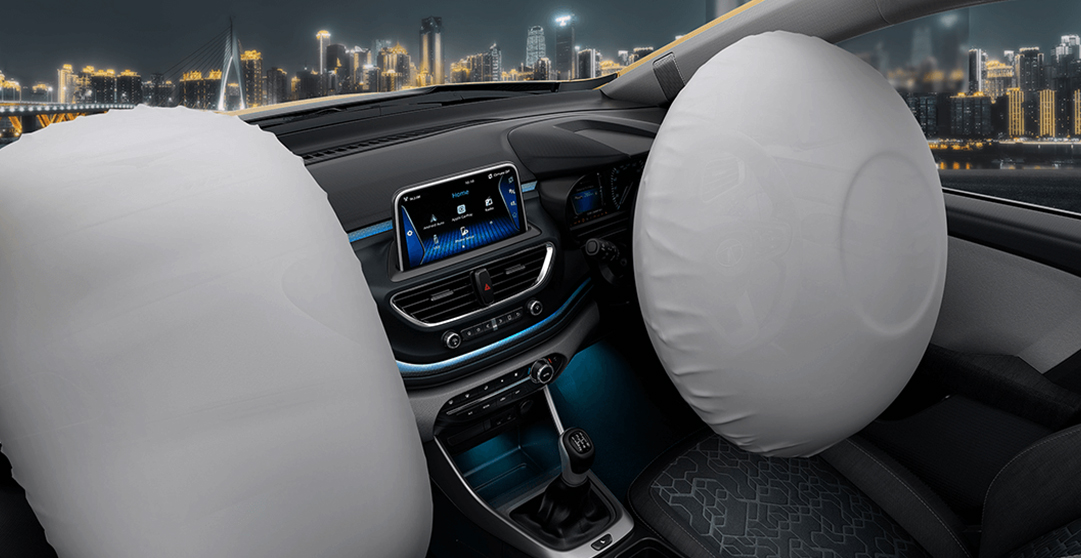 ALFA Arc
Agile Light Flexible Advanced (ALFA) Architecture, along with energy-absorbing body structure, Accounts for the absolute safety of the passengers.
Anti-lock Braking System (ABS)
Latest Anti-Locking Braking System (ABS) 9.3 version prevents wheel lock-up during panic braking, thereby maintaining directional stability.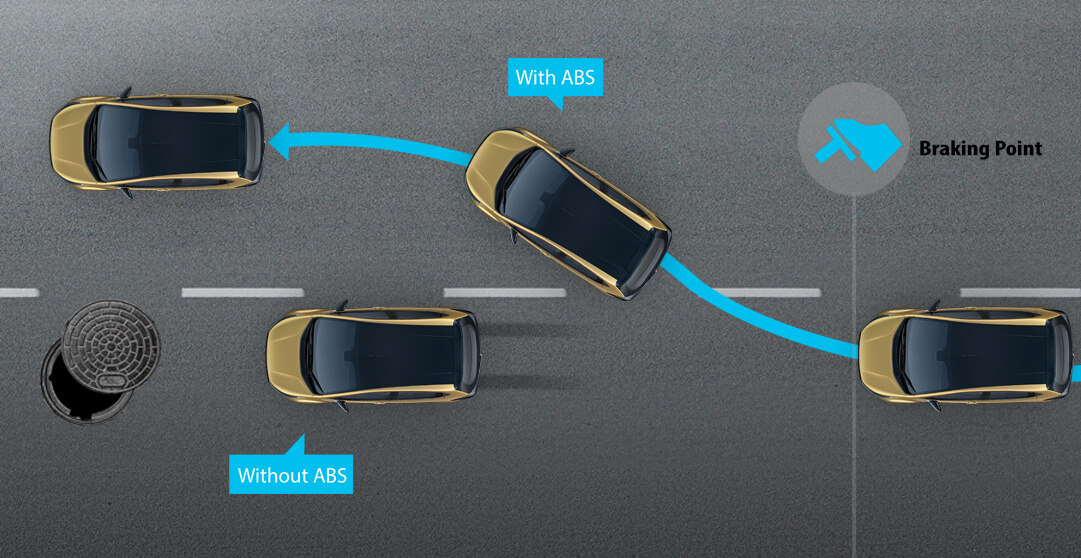 Electronic Brake-force Distribution
Electronic Brake-force Distribution system distributes the brake-force between front and rear axle to maintain efficient on-road control.
Corner Stability Control (CSC)
Stay in absolute control, especially while undertaking sharp or speedy turns.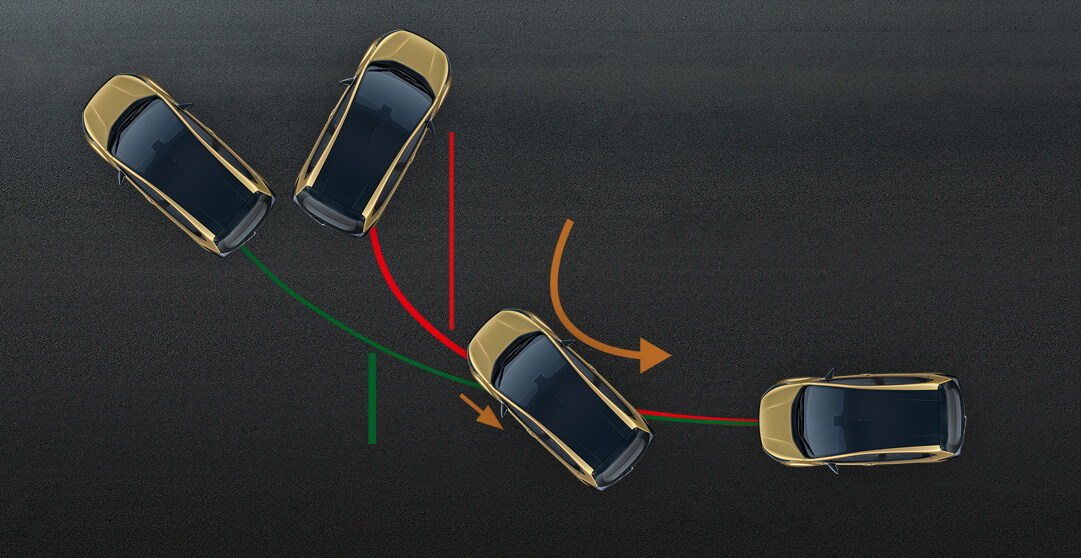 Dual Front Airbags
Dual front airbags help ensure complete and thorough protection for front passengers in case of a collision.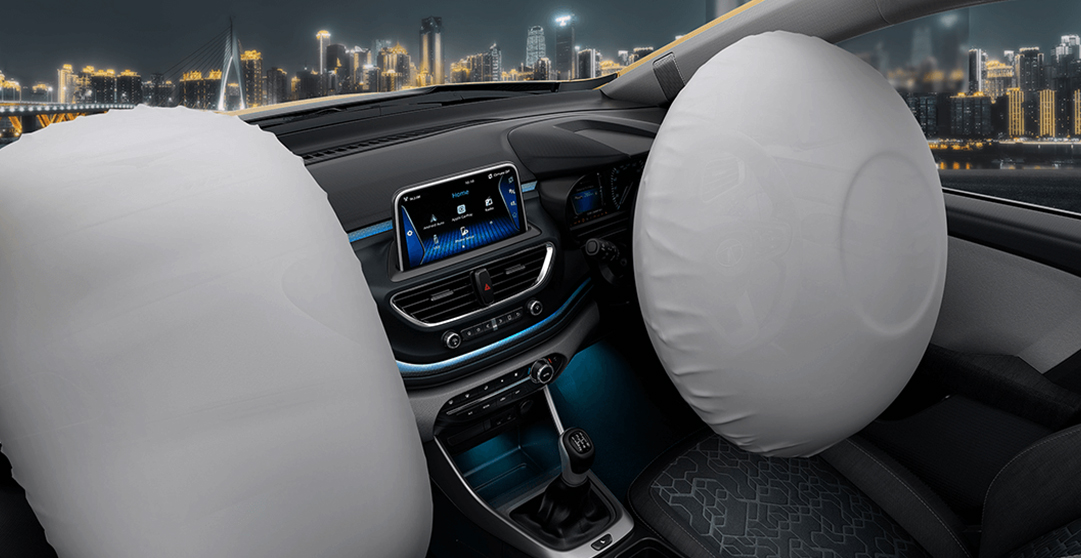 Reverse Parking camera
Increased visibility behind the wheel assist in easy parking in tighter spaces with the help of guidelines.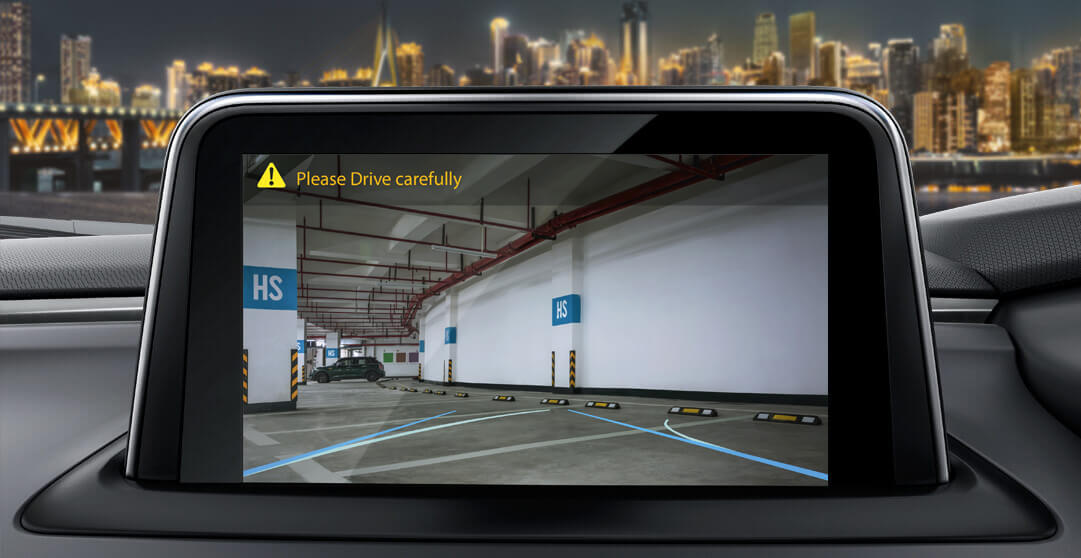 ISOFIX Anchorage for child seats
Keep your little ones safe with an easy installation system for child seats to make every drive blissful and relaxed.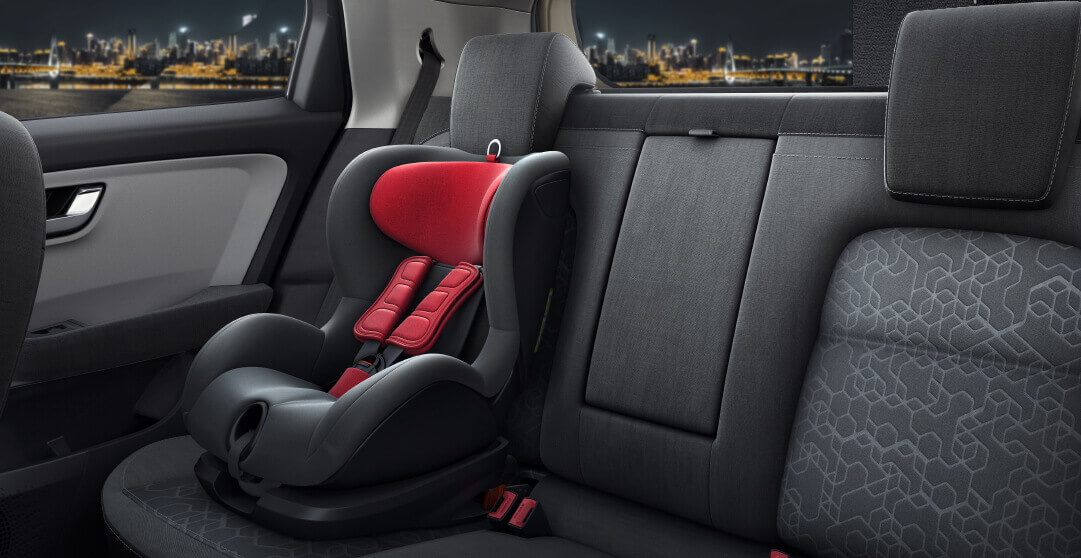 Voice Alerts
Timely voice alerts and warning prevents you from unwanted mishaps and all alerts.Voice alerts warning:Driver door open,Co-driver door open,Left rear door open,Right rear door open,Tailgate open,Driver seat belt: Fasten your seat belt,Co-driver seat belt: Fasten your seat belt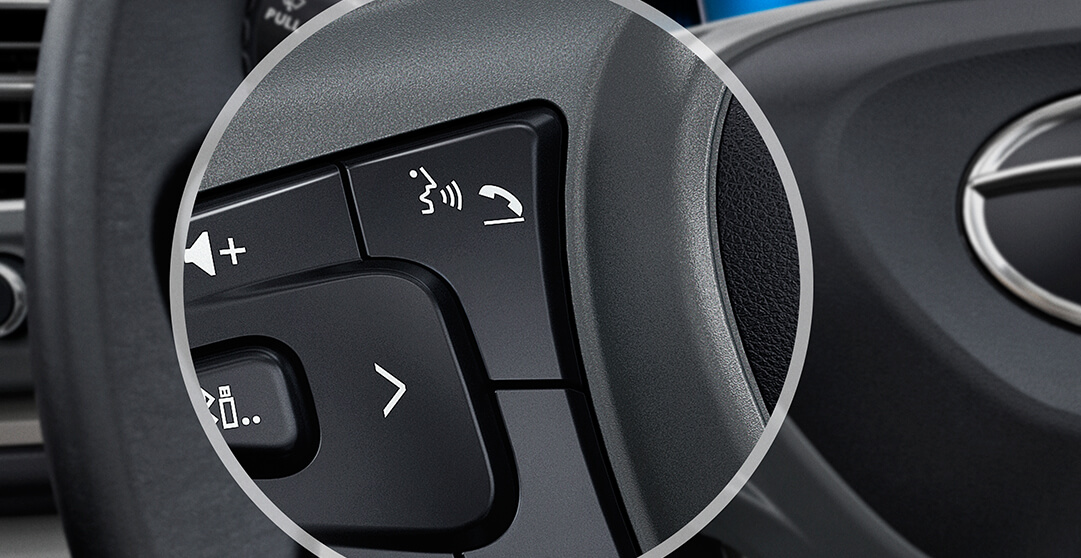 Parking Assistance
Increased visibility behind the wheel assist in easy parking in tighter spaces with the help of guidelines.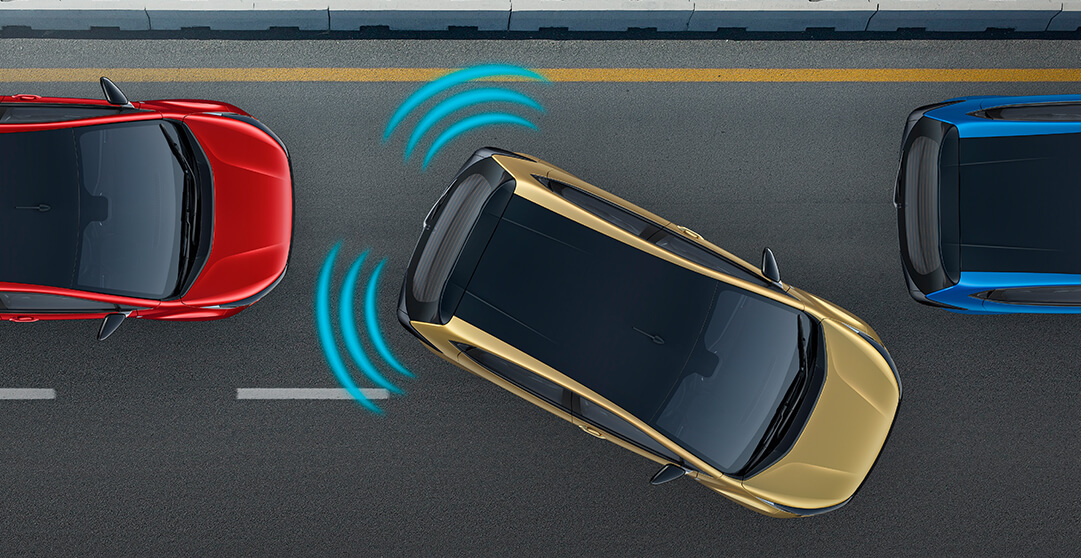 Height Adjustable Seatbelt
Adjustable seatbelts ar per individual requirements to provide comprehensive safety.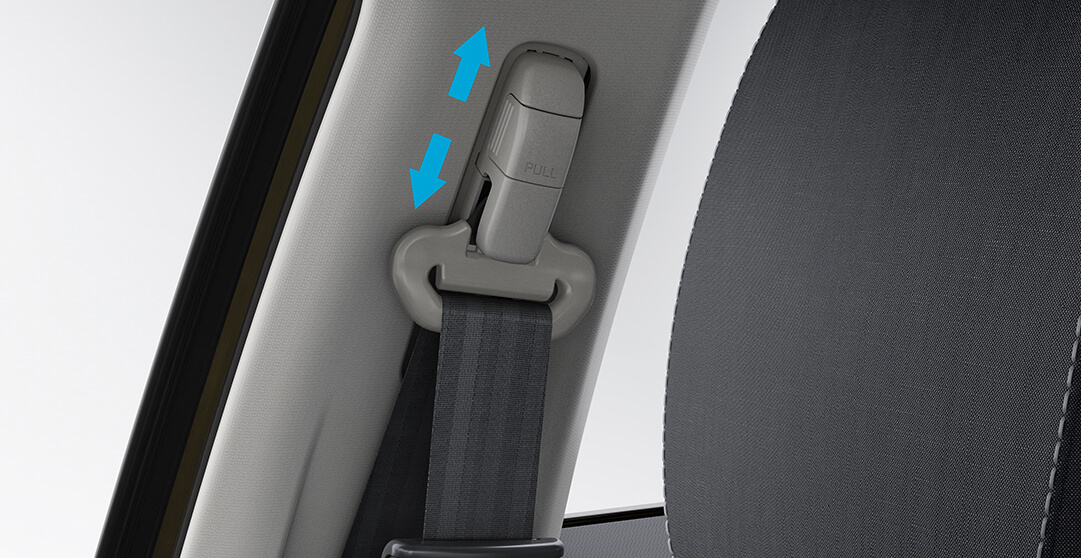 Fog Lamps
Front fog lamps seamlessly integrated with the bumper help provide improved visibility even in poor weather conditions.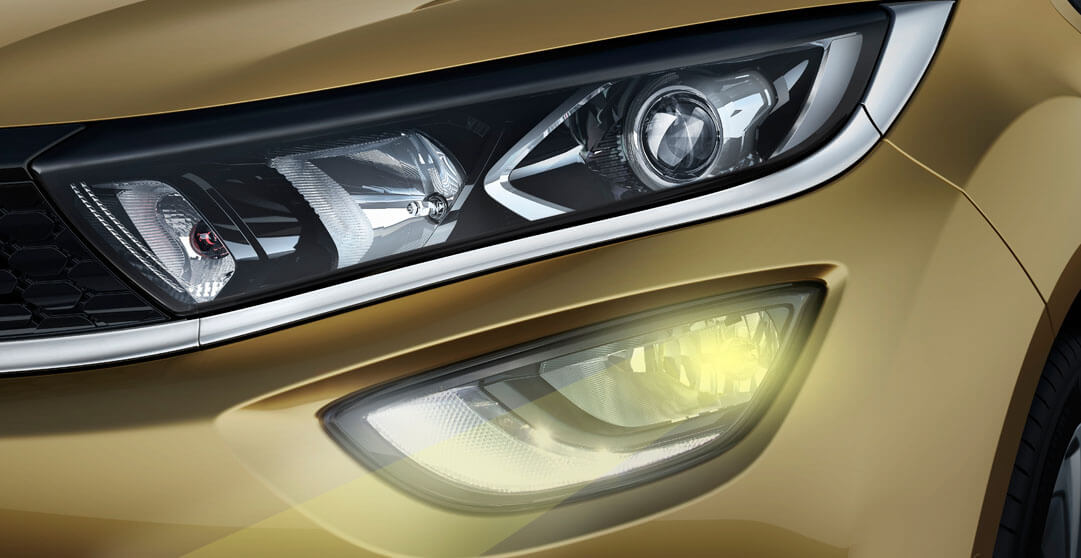 Gold standard of Driving Dynamics
Drive the gold standard. Experience the exhilarating performance of Altroz with powerful BS6 petrol and diesel engines, fine-tuned suspension and comprehensive control and to conquer every road.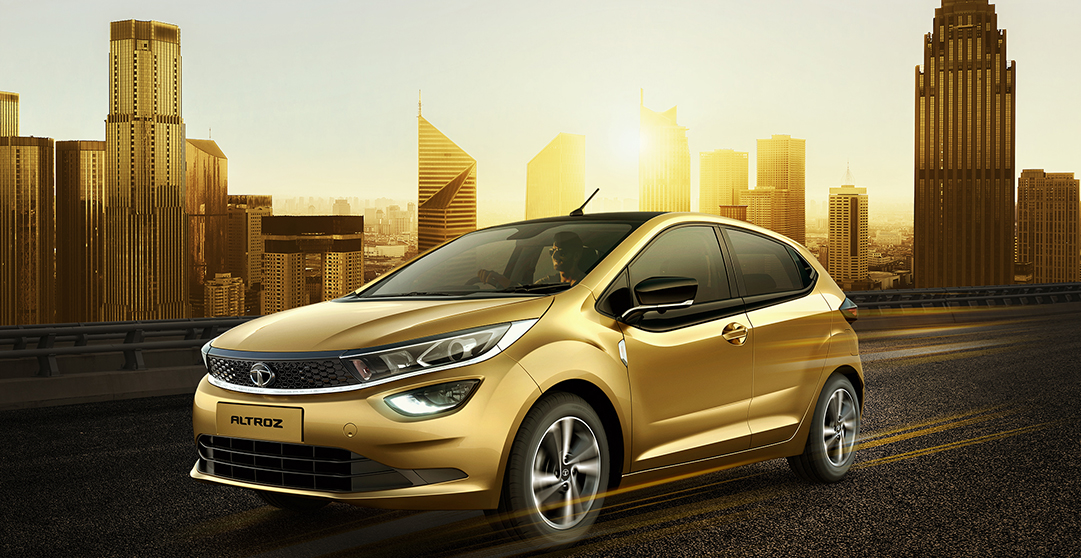 1.5l turbocharged revotorq Diesel BS6 engine
Largest Engine Capacity in the segment with superior performance ensures that you never run out of power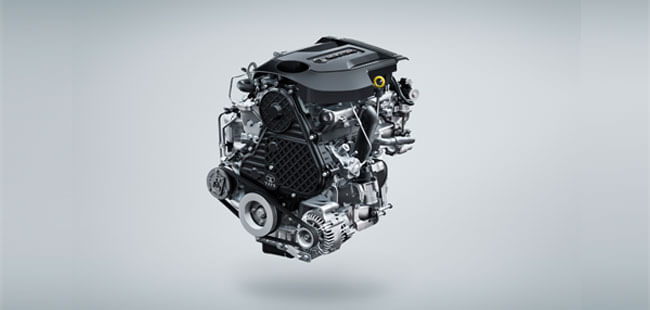 1.2l revotron Petrol BS6 engine
Class leading power for the most punchy and sporty drive experience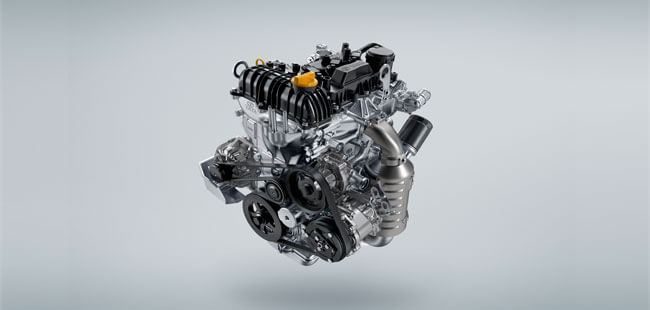 ISS-Idle stop start
Automatically turns off the engine when idle at signal, traffic etc. which saves fuel consumption. Engine starts simply by pressing the clutch.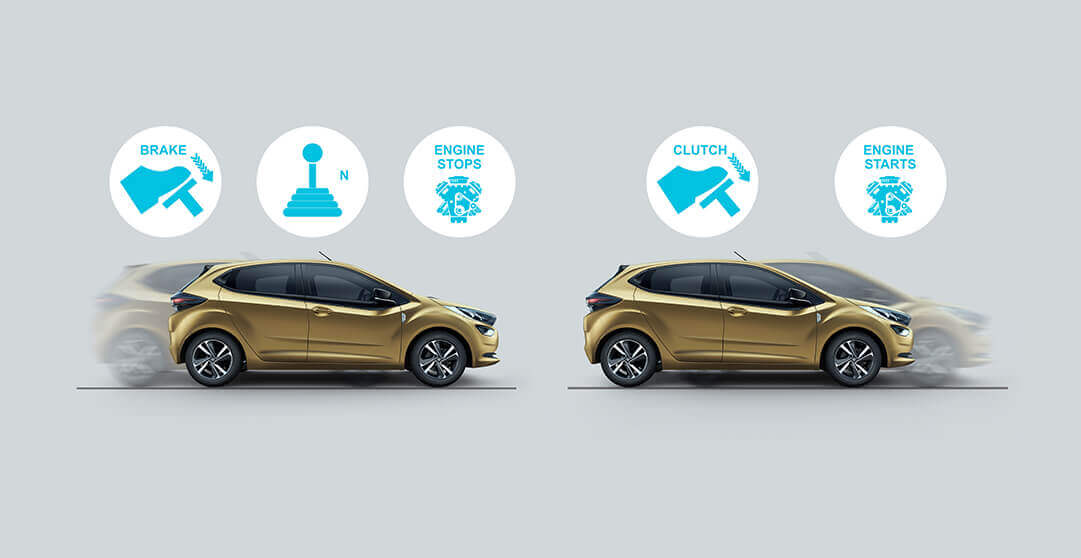 Multi Drive Modes
Drive according to your mood by switching to Eco and City mode.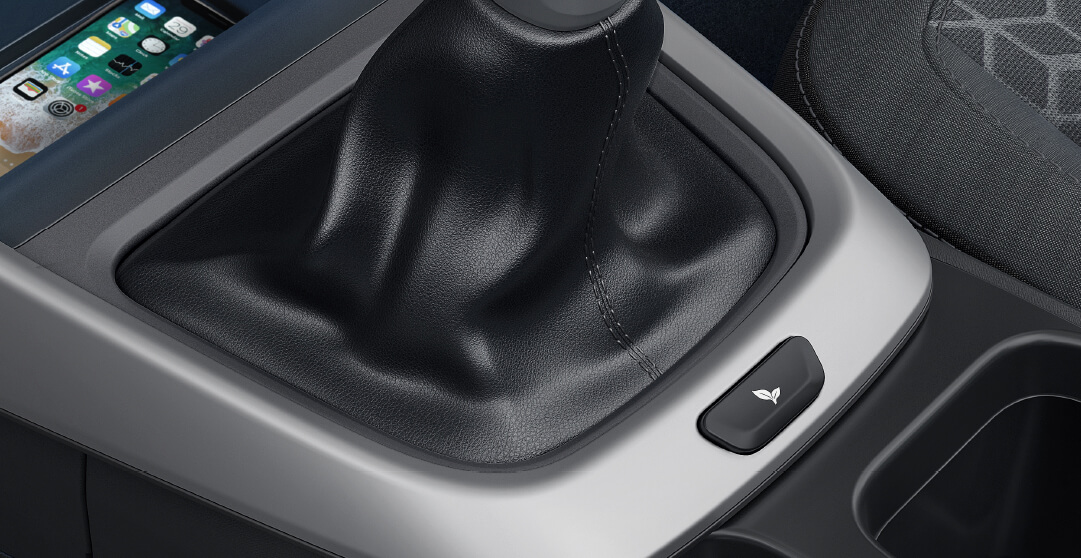 5 Speed Manual Transmission
Shift your way into a smooth and blissful driving experience with 5 forward and one reverse gears.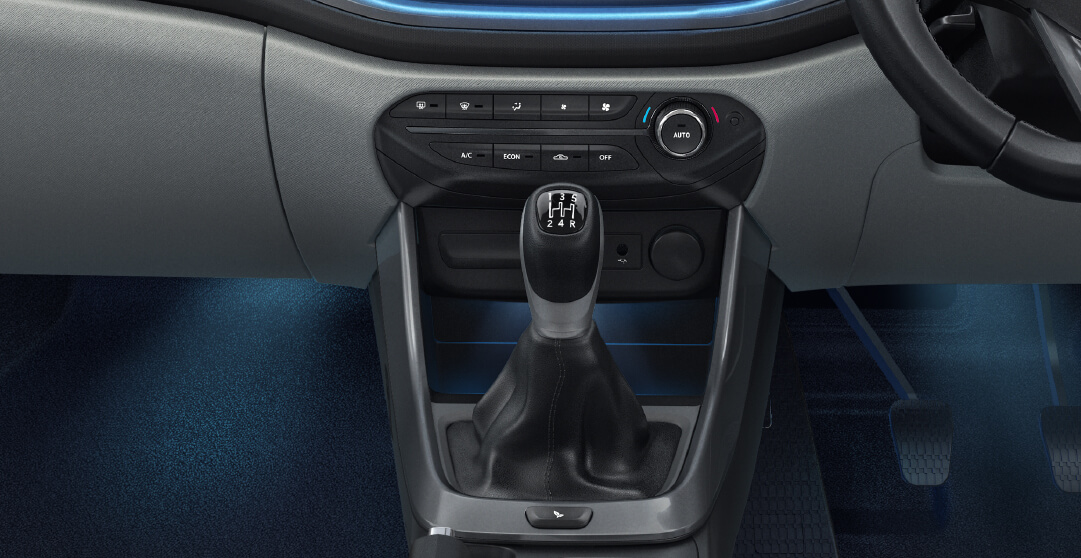 Agile and widest ALFA Architecture
Large wheel base and wide track ensure stability during maneuvering or while driving on bad roads.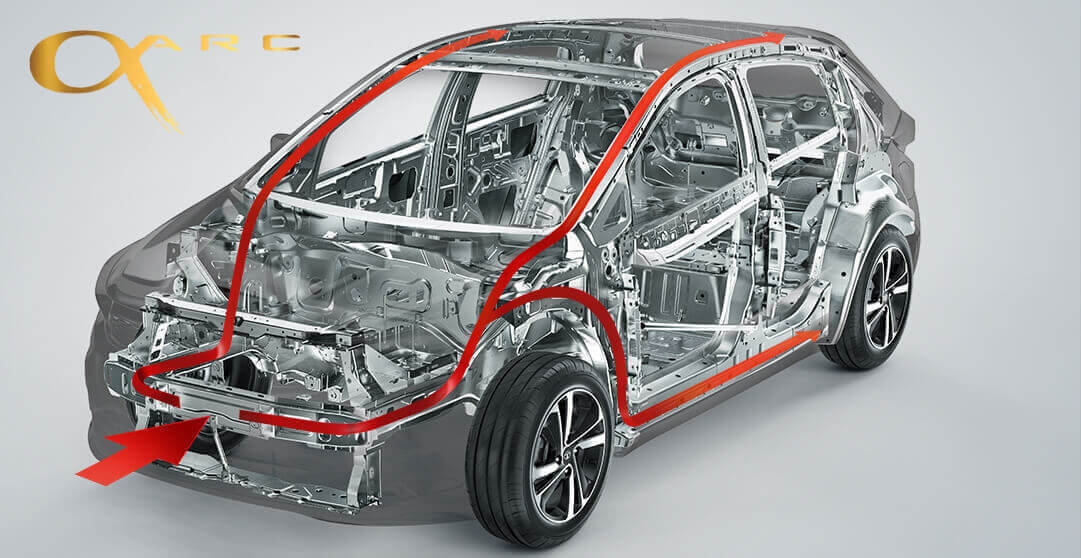 Gold Standard of TECHNOLOGY
Infotainment system by Harman TM leaves no stone unturned. Equipped with an advanced 17.78cm touchscreen interface, top-notch connectivity and unmatched acoustics system, it is truly a complete infotainment system.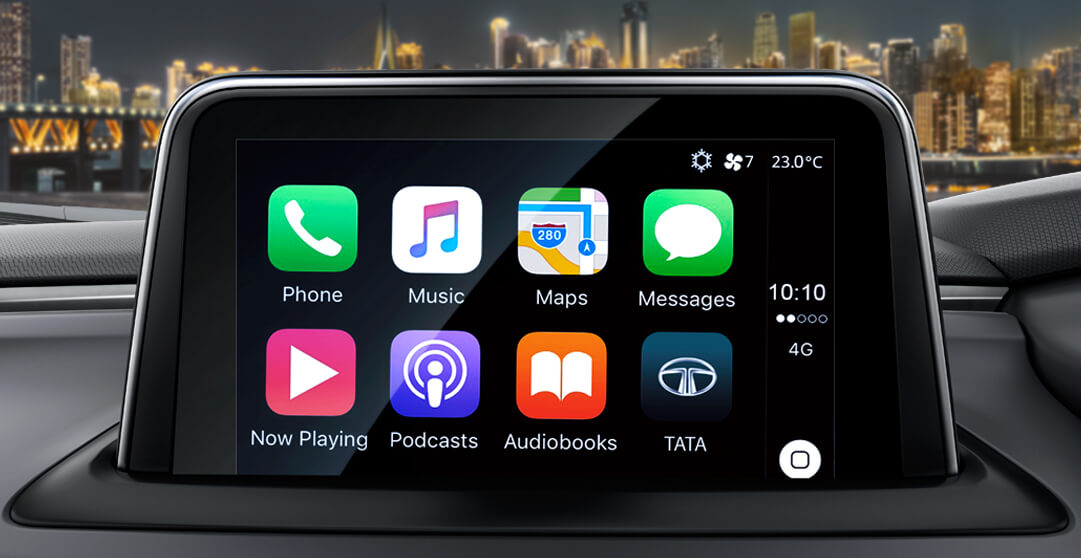 Auto headlamps
Smart headlamps that automatically light up in dark areas, provide instant visibility without any intervention.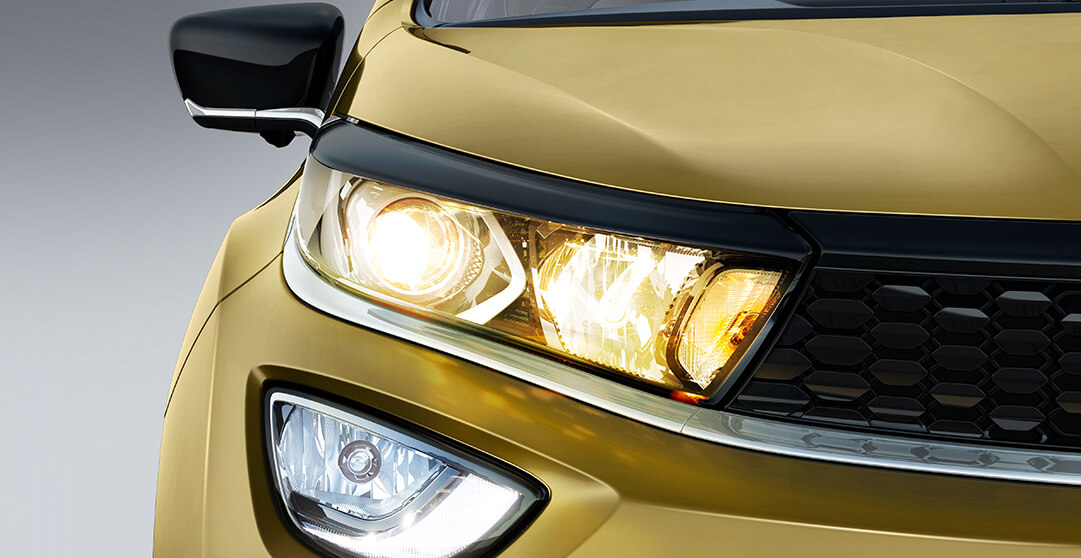 Rain Sensing Wipers
A set of intelligent wipers designed to sense the rain and automatically turn on, helps make your driving experience as weather-proof as possible.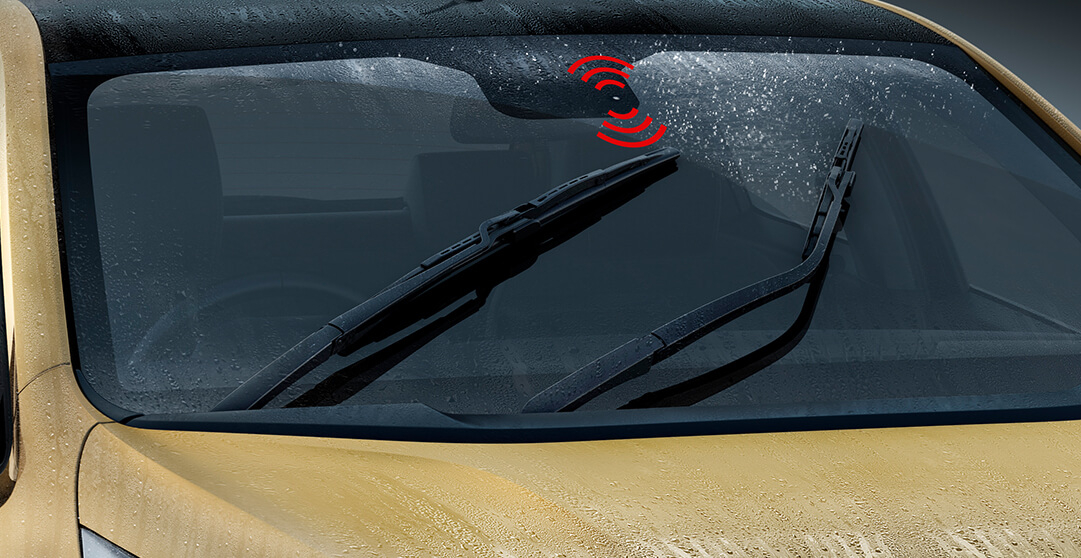 Cruise Control
Long distance drives will now be a breeze with the easy-to-use Cruise Control function.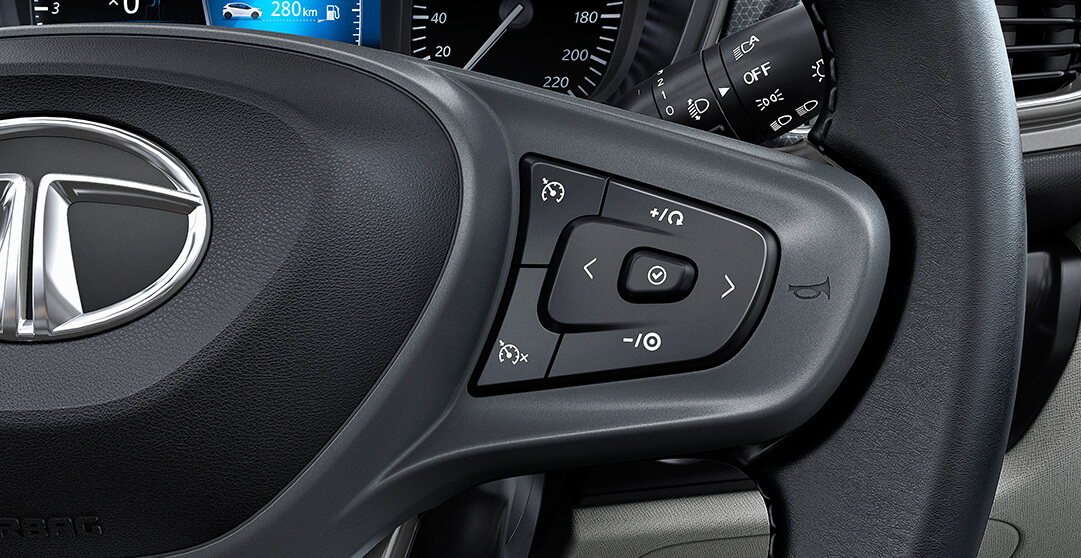 Apple Car Play TM and Android Auto TM
Navigate your way through unchartered territories by connecting your phone through Android Auto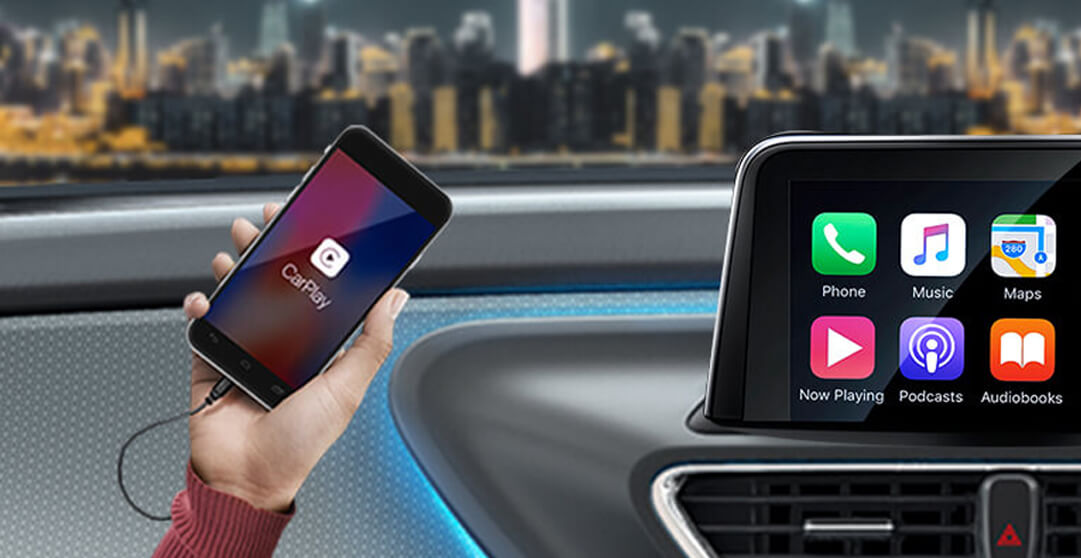 Navigation
Navigate your way through unchartered territories by connecting your phone through Android Auto TM or Apple Carplay.
Customizable Infotainment Theme
You can set the infotainment screen theme as per your choice. Three options available (Zeal, Zen and Zing).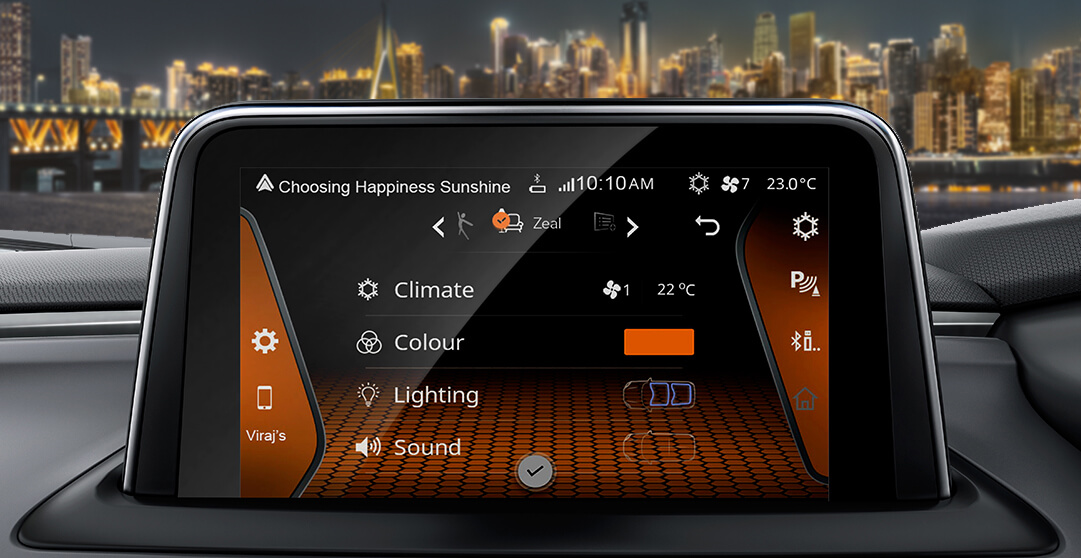 Radio
A grand concert on wheels. Exclusively tuned speaker system considering the cabin volume, sound reflection and absorption to provide a true-to-life acoustic experience.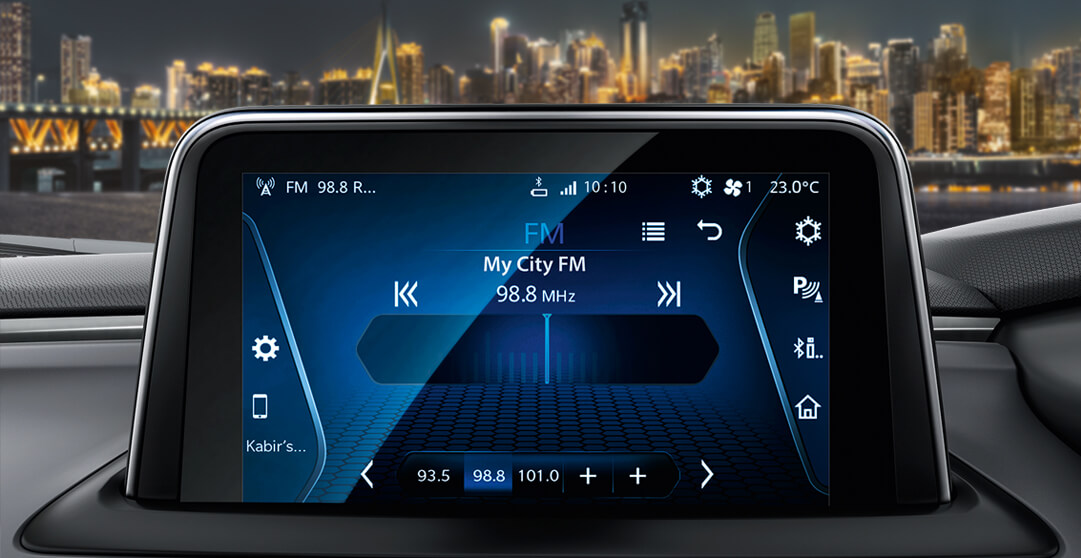 USB Browse
Get one-touch access to all the essential controls on the steering wheel because your eyes should always be on the road.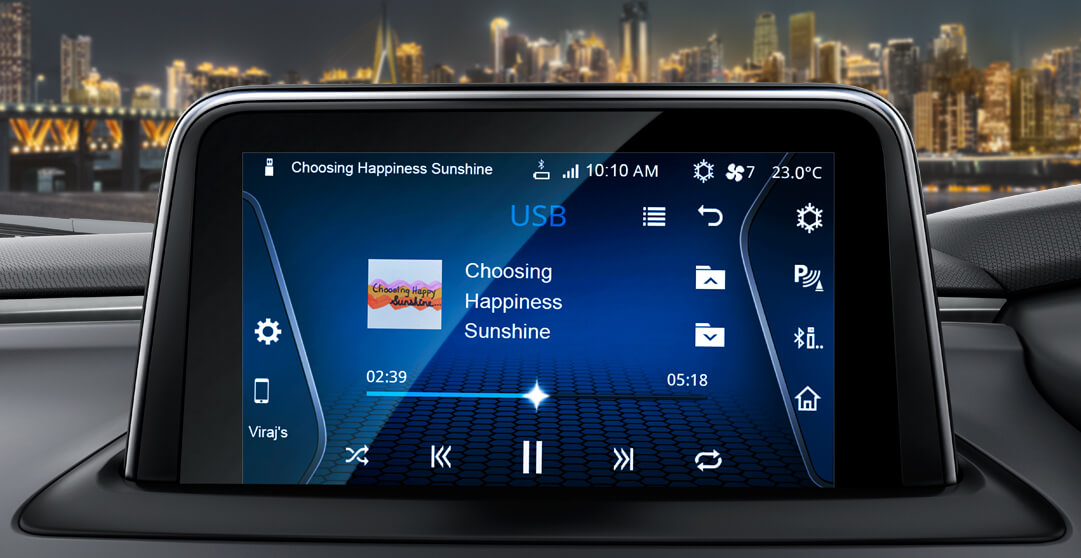 Voice Command Recognition - Phone, Media & Climate control
New generation of smartphone connectivity, to ensure an easy & intuitive vocal interaction with the Car's Infotainment.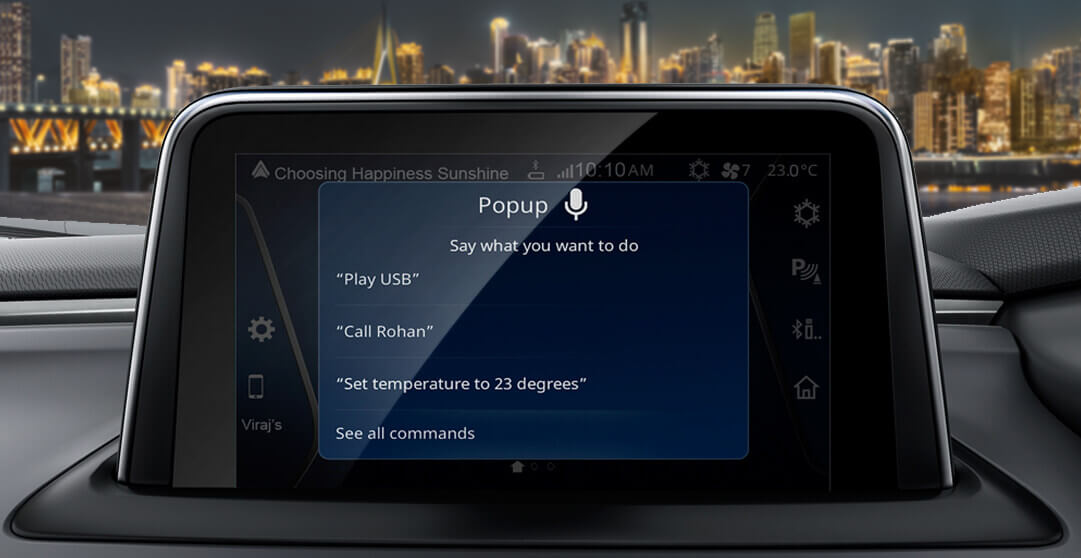 17.78cm TFT Digital Instrument Cluster
17.78 cm TFT digital instrument cluster provides vital Car related information on the go conveniently. Cluster functions can be controlled through steering mounted buttons.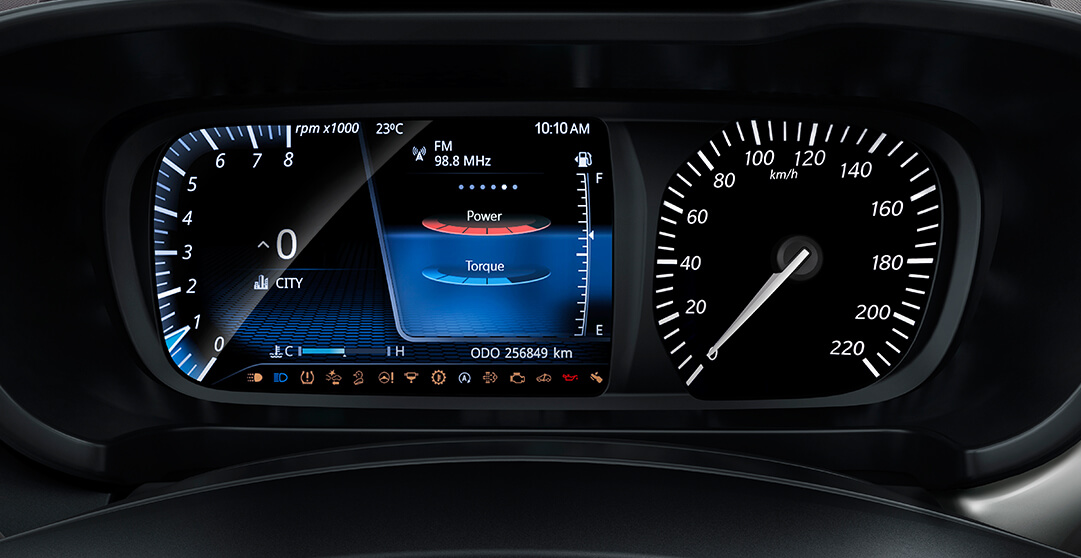 Turn By Turn Navigation
Media, phone and navigation mirroring between Infotainment and Instrument Cluster facilitate turn by turn navigation indication on the cluster.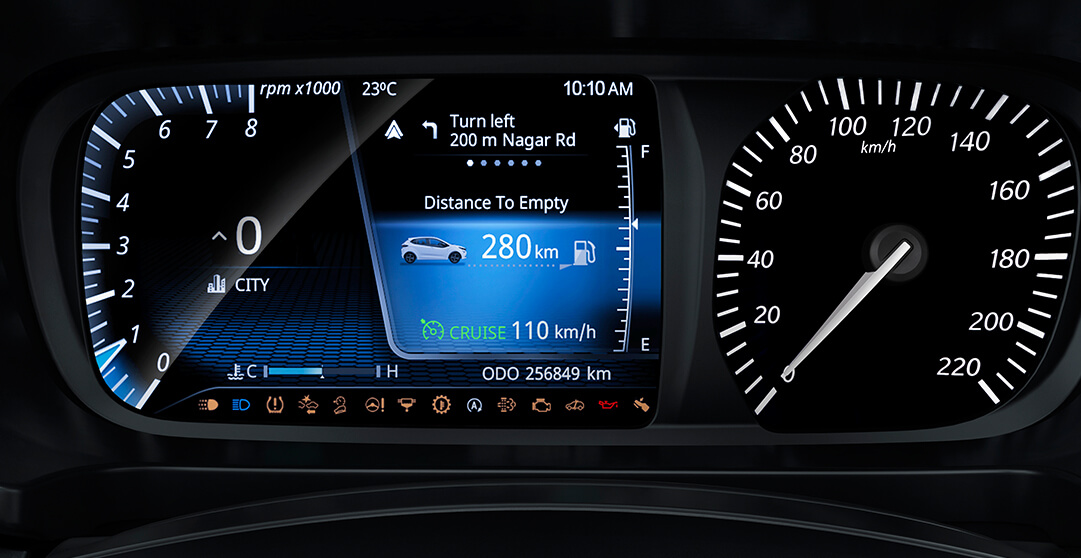 Gold Standard of Customer Delight
Convenience has a new meaning, thanks to rear AC vents, flat floor design and 90-degree opening doors. Experience luxurious comfort every mile of the drive.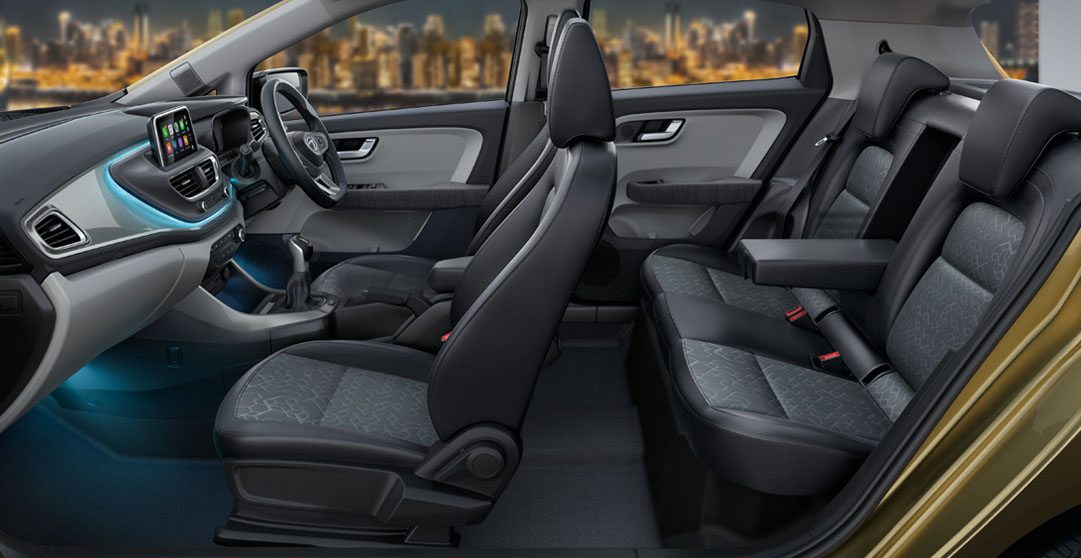 Ambient Mood Lighting
A serene blue ambient light surrounds the dashboard, front footwell and console to set the mood for a long and peaceful drive.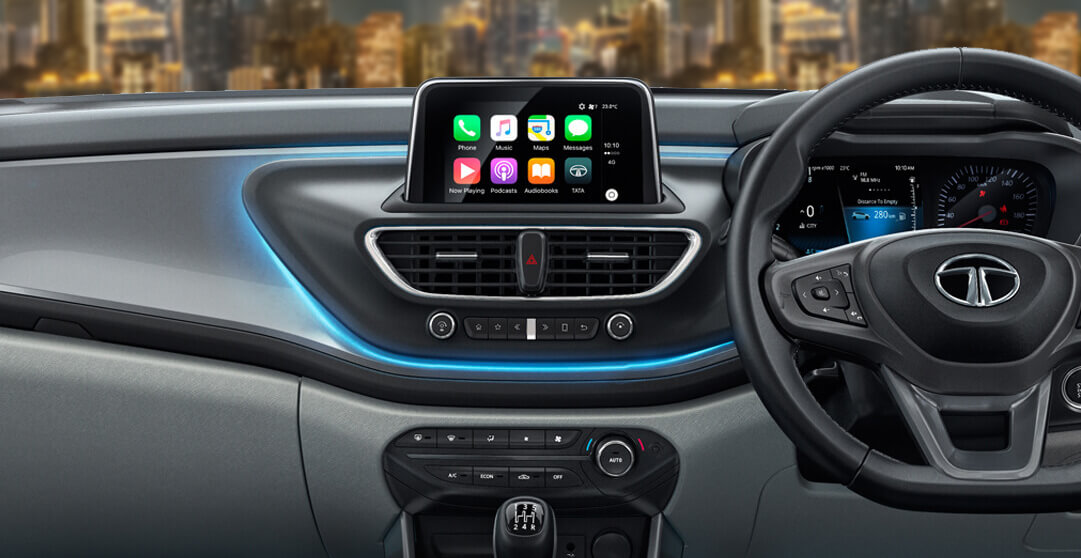 Rear Flat Floor
Keep your legs at utmost comfort with flat floor in the rear seats and say goodbye to uncomfortable sitting stances.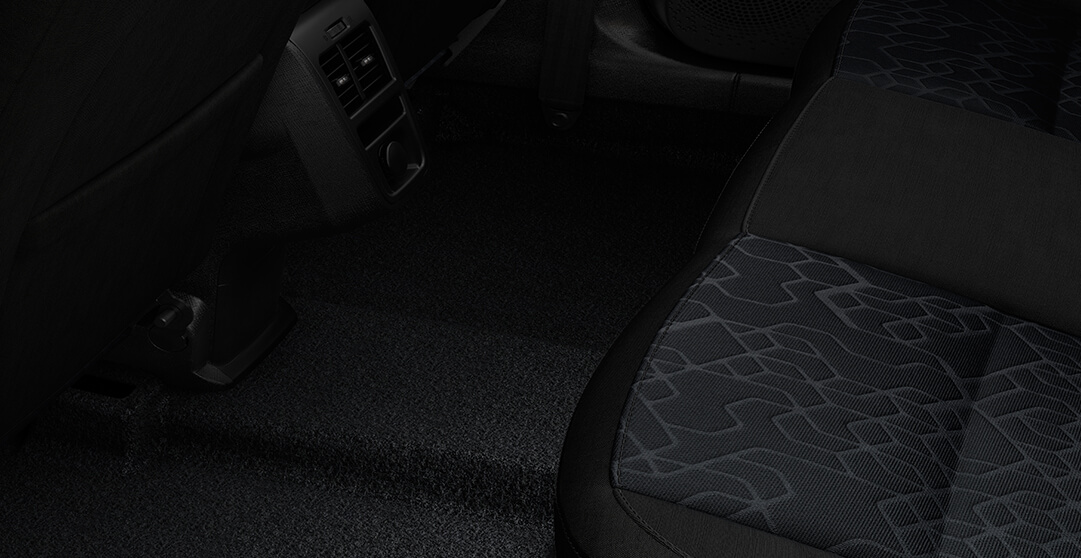 Rear AC Vents with Rear Power Outlet
Rear passengers will remain cool and charged courtesy of the rear AC vents that come with a power outlet.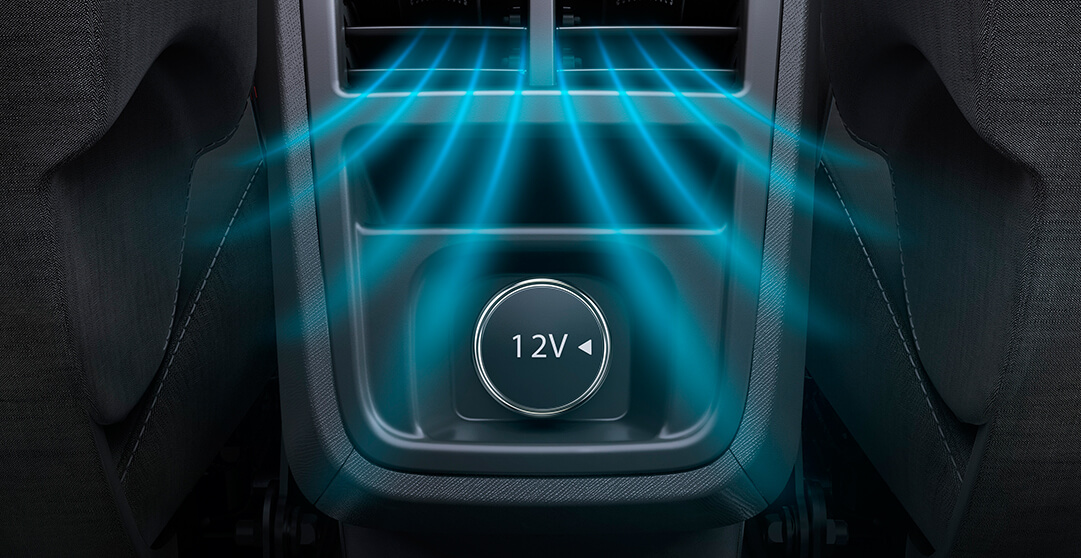 Flat Bottom Steering Wheel
An ergonomically designed steering wheel that ensures easy ingress/egress especially for taller drivers.
15 L Cooled Glove Box
A 15 l temperature controlled glove box helps keep beverages at a temperature suitable to your needs.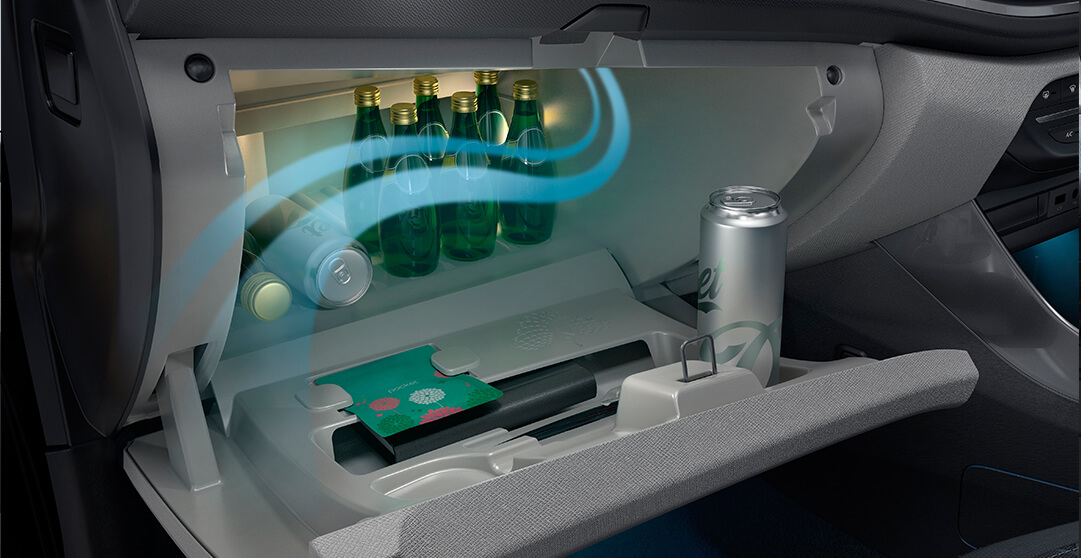 Wearable Key
Say goodbye to bulky key around. Enjoy hassle-free keyless entry with a wearable key that you are unlikely to forget.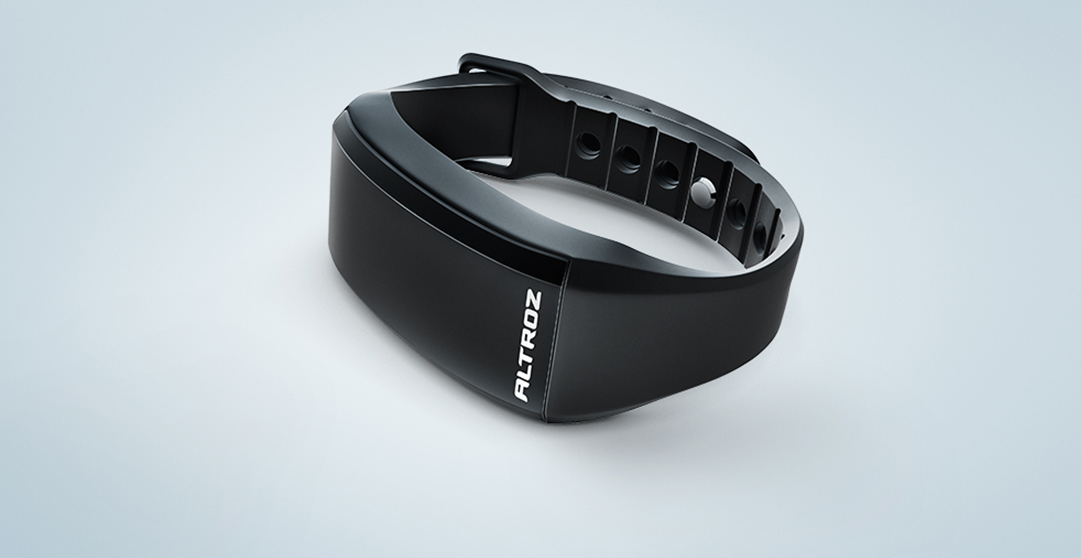 Push Button Start Stop
A great start will precede powerful performance with the Start/Stop engine button.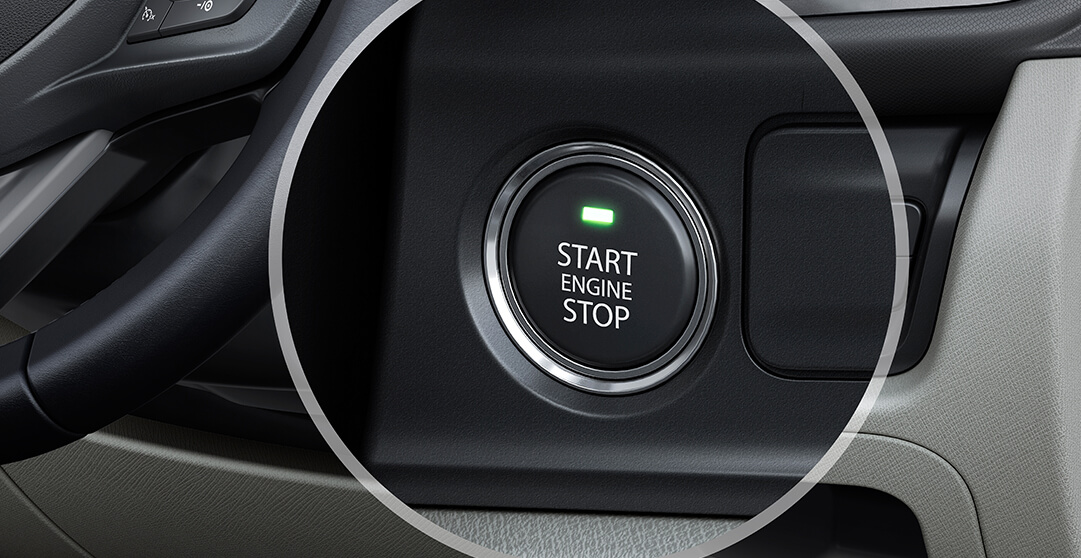 Follow me home headlamps
A revolutionary feature that helps you navigate the path from your car to the front door of your house.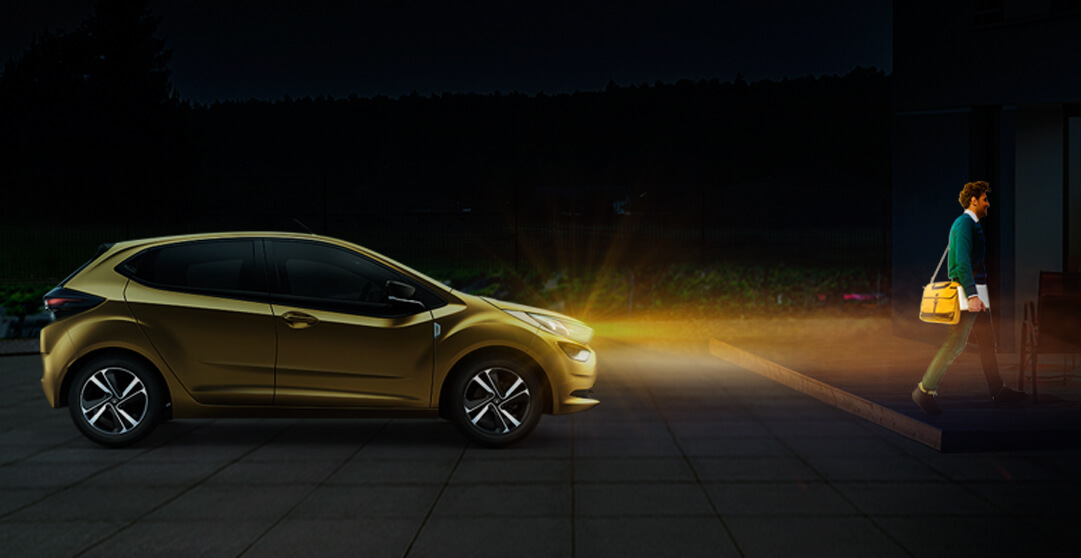 Front sliding armrest with storage
Sliding armrest enables the driver to adjust the position and rest his arm on the move. Find additional storage space below the armrest to keep your essentials handy.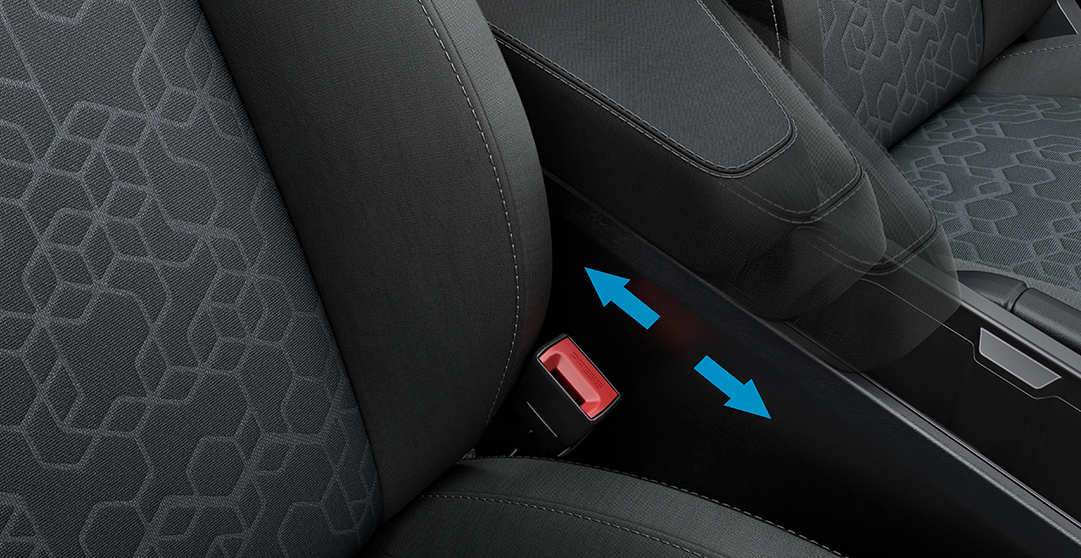 Rear Armrest
Perceptively placed rear armrest for the luxury and comfort of the people seated in the backseat.
24 Utility
Ample space to store all your knick-knacks and essential objects including Tablet, Wallet, Umbrella Storage, and more.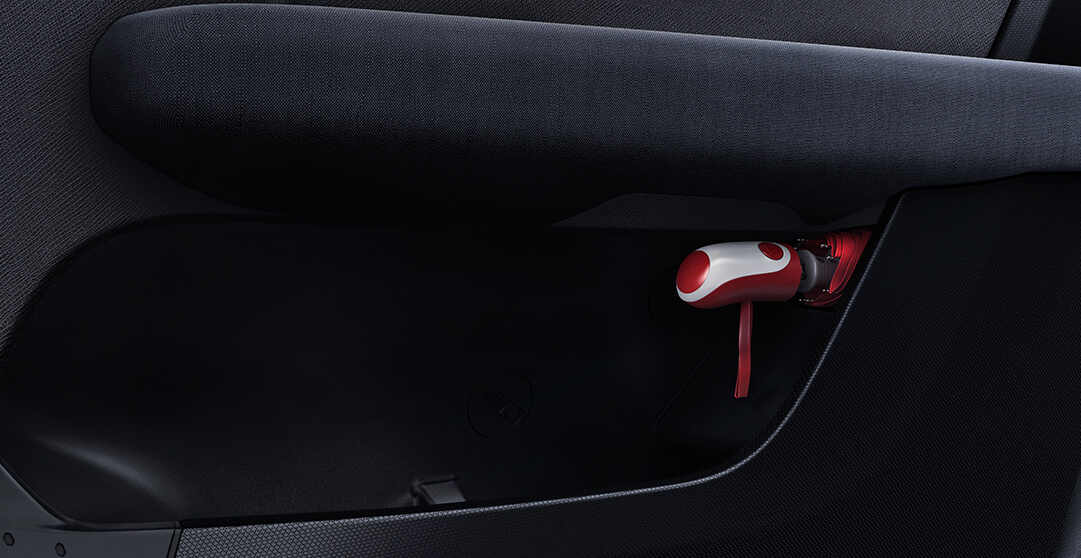 Spacious Cabin
Renowned for being the widest car in its segment, the Altroz and its spacious interiors is what truly makes living, larger than life.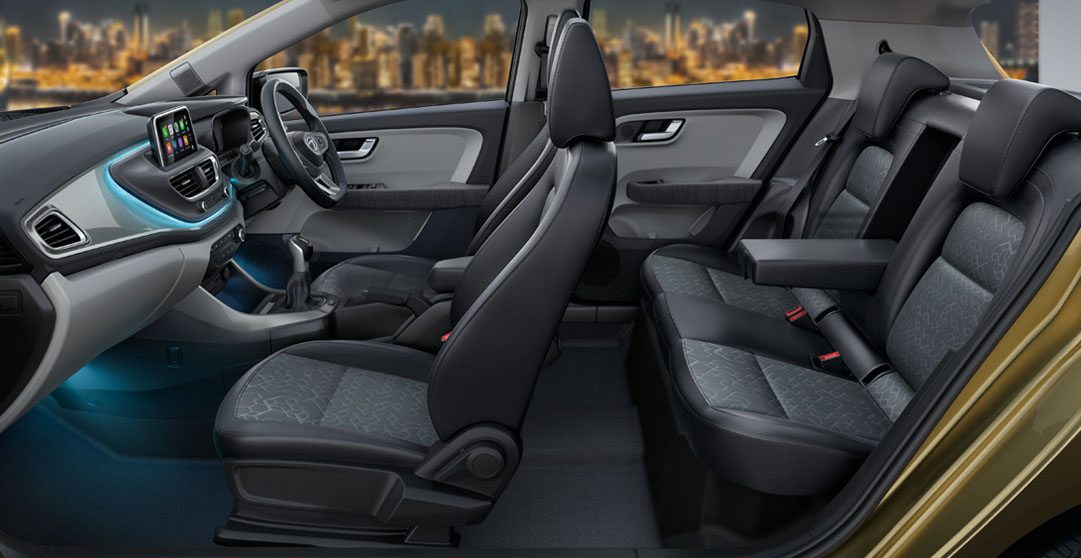 Leather wrapped steering with cluster control
Leather wrapped steering wheel ensures a perfect grip and steering mounted cluster controls helps to manage information from cluster with one touch